Terram Sequitur is a platform for independent consultants in the energy sector. We harness each others strengths to drive our businesses forward as we strive toward the common goal of a more sustainable future. We offer a range of services from project management, strategy, asset management, and business development. Major shifts in the energy industry are yielding new challenges and offering opportunities for all players –  we guide our clients through this changing landscape.  Specializing in consulting services for industrial customers, traditional energy companies, and the disrupters alike, we work to meet your needs when faced with new technologies, changes in the energy market, and new business models.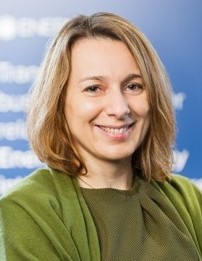 Karin Fleck
Managing Director 
Karin Fleck is providing expertise on the development of the  different energy markets, their impact to business and  new strategies. That covers management of all type of flexibilites, demand response, bidding strategies, ancillary service markets and optimisation and forecasting processes. The importance of operating a sustaining IT environment and improving the tools and mathematics behind.
She holds a PhD in Applied Chemistry and a masters degree in Technical Chemistry.